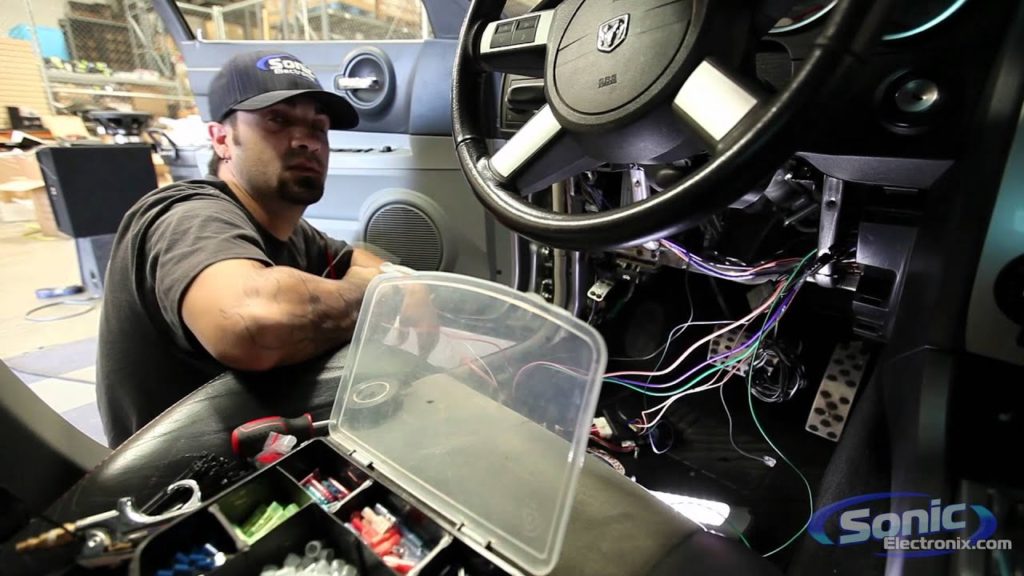 BEST CAR ALARM INSTALLATION SERVICE IN MCALLEN TX
MCALLEN CAR ALARM INSTALLATION
Car Alarms Installation in Mobile Mechanics Of McAllen
Car Alarm Installation Service near McAllen TX: For many people, their vehicles are one of their most valuable possessions, and losing them due to theft could end up costing major money and causing serious inconvenience in a driver's life. Unfortunately, many vehicles are at risk of getting stolen or broken into because standard locks simply aren't enough to keep thieves away. Fortunately, you can easily protect your vehicle by let the pros at Mobile Mechanics Of McAllen for car alarm installation. We provide McAllen TX drivers with a real all guard car alarm that will keep their vehicles and their personal items protected practically no matter where they choose to park. Call or email us today to discuss your needs for a new car alarm system or to get a free estimate! We have Artic Start, Avital, CodeAlarm, Compustar, NUStart, Prestige, Python, & Viper system in stock.
Most cars that are stolen never get recovered, and that's why it's important for drivers to stop theft before it happens. Even if a thief is not interested in stealing your car, he or she may be interested in your car's stereo system or anything else you might have inside, so it's important to protect your car with a vehicle security system.
At Mobile Mechanics Of McAllen, we can offer you a wide range of different car alarm systems, including remote car alarms, to help keep your vehicle safe. We even offer car alarms that will notify you through your smartphone when a break-in is attempted. We have the high-tech solutions you want to keep your car or truck safe.
Extensive Car Alarm Selection
Car Alarm Installation Service near McAllen TX: Depending on the type of vehicle security system you select, you may have the option of features such as:
Remote Starters
Ignition Interruption
Keyless Entry System
2-Way Remotes
Glass Break Sensors
Motion Sensors
Digital Tilt Sensors
T-Harness Directed
When you visit Mobile Mechanics Of McAllen to purchase a new car alarm, we'll help you decide which alarm is right for your vehicle, and then get to work setting it up completely and precisely. We finance with our NO CREDIT NEEDED FINANCING OPTION. Our licensed and insured car security alarm technicians will professionally install your alarm with careful attention to detail, giving you a fast turnaround time so you can get back out on the road. Expert installation done efficiently is the way we do business, and at Mobile Mechanics Of McAllen, don't forget that you'll benefit from our great rates, too!
Great Rates for Quality Car Alarms
Car Alarm Installation Service near McAllen TX:
At Mobile Mechanics Of McAllen, we strive to offer our customers affordable rates for car alarms. As a family-owned company, we know how important it is to protect what you've worked hard for, and we don't want our customers to suffer the high prices some other mobile electronics shops charge for remote car alarms. When you turn to us for a car alarm system, you can expect to get a premium product and high-quality installation for a price that you can afford. You will also benefit from our lifetime labor guarantee, which ensures that the installation on your new alarm is top notch.
Protect your vehicle today by calling Mobile Mechanics Of McAllen for a new car alarm.
The Benefits of a Car Alarm System
In this day and age your vehicle's safety and security is just as important as your home as it is just as valuable, making it a prime target for burglary. Therefore installing a car alarm system is of paramount important for many people and comes with many benefits which consist of the following:
Although a car alarm is a very simple device, it sends out a clear message to thieves that there is a very high chance of someone noticing/being alerted of their activities if they try to break in.
In terms of protecting your personal valuables it is a very cost effective measure to safeguard the car and its contents.
Thieves will always choose an easier target and by installing a car alarm system you are reducing the chance of your vehicle becoming a target.
One of the biggest costs of owning a vehicle is the insurance and when you do not have any car alarm systems fitted your insurance premium will automatically be higher. Most modern cars are fitted with some form of systems which insurance companies will take into account. However, if you own an older car which does not have these systems, you will often find that the insurance is much higher. Installing a car alarm is an option available to most drivers with them being more widely affordable and often you will find that the cost of installation is offset by the reduction in insurance costs.
If your vehicle is unfortunately stolen, having an alarm system with a tracking device will transmit the location without the thief ever knowing. This means law enforcement will be able to locate and retrieve your vehicle quickly.
ow the driver to control aspects of the vehicle from their phone and in the event that it is stolen the driver can send a signal from their phone to kill the car's functionality, forcing it to remain stationary until the driver changes this.
How Does a Car Alarm Work?
Car Alarm Installation Service near McAllen TX:A car alarm serves a very simple purpose, really – to prevent unauthorized entry to your vehicle as well as deter would-be thieves. The components that make up a car alarm typically consist of a computer, a receiver, a loudspeaker, and sensors.
A car may have between one and ten different sensors, depending on the year and model. Basically, the sensors monitor for any illegal activity and if they detect any, send the data to the alarm computer which then activates the siren (loudspeaker).
Some systems are also sophisticated enough to turn off the alarm when certain conditions are met.
A key fob with a built-in radio receiver is available for some cars and allows a user to wirelessly control the alarm system to arm or disarm it.
That's pretty much all there is to it, but there are further details that make for some pretty unique detection methods. There are several different types of car alarm sensors being used on modern vehicles:
Door Sensors
Shock/Impact Sensors
Microphone Sensors
Tilt Sensors
Proximity Sensors
Door sensors are the most common sensors and simply activate when a thief opens a door while it's locked using a pick or skeleton key. Shock and impact sensors are activated if the thief decides to break a window to gain entry. These sensors can sometimes trigger accidentally.
Some car thieves are pretty smart, though, and use special tools to avoid triggering the shock alarm when breaking a window.
To counter this, some automobile manufacturers have installed microphone alarms that monitor loud, sudden noises in and around the car. Because of the way they work, these sensors can also give off false alarms occasionally.
Tilt sensors stop thieves from towing the car off altogether. By monitoring the angle of the car, the computer can tell if the vehicle is inclined and will trigger the alarm when it's active.
These sensors use devices filled with mercury which flow to one side or another in such an event and send electrical signals to the computer and sound off the loudspeaker.
Another type of sensor – the proximity sensor, scans an area around the car for movement. These sensors are designed to only capture movement very close to the vehicle and at a certain speed.
They're usually installed on high-end vehicles and are also prone to accidental triggering from time to time.
Modern car alarm systems use an auxiliary battery so that they can still operate even if the car's main battery dies. This is useful because car thieves often like to cut power to the vehicle first by snipping the battery cables under the hood.
A sudden loss of power to the battery like this would activate the auxiliary battery power and send a signal to the computer which will trigger the alarm.
Common Problems with Car Alarms
Car Alarm Installation Service near McAllen TX: Car alarms can have some problems that you should be aware of. A lot of the time, the issue is due to old age or bad internal wiring.
Know the status of your alarm system to make sure that it's always in top notch condition and ready to deter thieves.
The remote entry system on a car can become faulty when the battery in the remote loses power. If you're noticing issues when activating/deactivating the alarm using your remote, try replacing the battery and see if it fixes the problem.
Another annoying issue is where the car alarm randomly goes off by itself; often in the middle of the night. The alarm system is faulty, you'll need to disable it in the meantime until you can have the car serviced. Bring it in as soon as possible, as your car is vulnerable to thieves during this time.
Car Alarm Installation Service near McAllen TX:  Most alarms which can be installed even by the one that buy offers minimal protection. If you truly want to protect your car, call a specialized company for the installation of an advanced alarm.
Preparing for installation
Gather required materials. You'll need a scissors or a knife, soldering iron and soldering material, lamp test, power drill, screwdriver, double duct tape and a voltmeter.
Read the manual with installation instructions.
Be sure you understand what is written in the manual. If you bought the alarm from a specialized shop, then you can always ask for advice and installation modes.
Call the company representative and inform the representative about the type of your car. Ask how to make connections in case when the car has central locking.
Ask the representative what wires (what color) to choose for locking the doors and disable the starting system.
Ask how to use the voltmeter to test the circuit for locking the doors.
See where you have to put the components, according to the manual instructions.
The installation
Install the siren under the hood on a solid surface. Place the siren face down to avoid the accumulation of moisture. Make connections for power supply.
Connect alarm powered correctly to the battery.
Put a fuse on the power cord near the battery. Read instructions about fuse type and measure.
Mount the vibration sensor in the place specified by handbook.
Make a hole in the dashboard where you want to place the LED for status indication. Connect the LED to the system and put it over the hole.
Find the wires that act as the closure system of the doors.
Connect these wires to the alarm system.
Using manuals found the wires from the hazard warning lights.
Connect the alarm to these lights.
Localize central locking of the doors.
Connect the circuit for central locking to alarm.
From the starting system, connect the wires to the alarm to be able to interrupt starting in case the alarm is triggered.
Mount the command panel under the dashboard.
Connect all the wires to the alarm module.
Mount the alarm module under the dashboard on a solid surface.
Use duct tape to insulate the wires and tie them in bunches.
Arms the alarm and test it.
The car alarms are electronic devices which have the role of protecting the vehicle by optical and acoustic warning when an unwanted event occurs such as forced door opening, breakage, impact, etc.
How much does it cost to install a car alarm system?
Car Alarm Installation Service near McAllen TX: Based on a brief survey of Compustar dealers, a basic car alarm/security installation for a non-luxury vehicle will range from $159.99-$249.99. Prices vary depending on your vehicle's year/make/model.
Many new vehicles come with a basic car alarm built-in, but vehicle owners in high-crime areas may want to upgrade to a more comprehensive security system, while owners of older or entry-level vehicles may want to add an alarm system.
Typical costs:
Expect to pay $30-$300 for a basic car alarm that has a siren attached to the vehicle's existing wiring system, one or two remote controls and a simple controller/brain; models at the higher end of this price range may have a back-up battery and/or more sensors than the lower-priced alarms, or a few features like a remote start or a starter immobilizer to prevent hot wiring . For example, the Viper 350 Plus 1-Way Security System 3105V[1] with a controller, two four-button remotes, a six-tone siren, a starter immobilizer and an operating range of up to 1,500′ costs $240.
Installation of a basic car alarm typically costs another $50-$200 or more, depending on the complexity of the system and the ease of access inside the vehicle's dash, bringing the total cost to $80-$500. For example, Best Buy charges $150 for the Avital 3100L Security System with Geek Squad Installation[2] ; this package includes a 6-tone siren, two 3-button remote controls, keyless entry, a 1,500′ range and a warn-away (initial low-level response) feature.
It typically costs $300-$850 or more for an advanced vehicle security system that has a greater number and more varied range of sensors, a sophisticated computer controller, a wider range of effectiveness and options such as a camera or a remote ignition starter, or the capacity to disable the ignition starter or cut off the gas supply if an intruder is detected. For example, the top-of-the-line Viper 5904 Responder HD SuperCode SST 2-Way Vehicle Security and Remote Start System[3] with a one-mile range, upgraded user interface, mini-USB charging port and keychain remote costs $800.
Installation of an advanced car security system can cost $100-$450 or more, depending on the complexity, the ease of access for the make and model of vehicle, and labor rates (as a general rule, labor costs more on a luxury, high-end vehicle than on a lower-priced standard sedan). Total costs for having an advanced system professionally installed can be $400-$1,300 or more.
FREQUENTLY ASKED QUESTIONS
What is a Car Alarm?
Car alarms, also known as vehicle security systems, are electronic systems that detect and discourage theft of a vehicle or the contents inside of it. Generally, a car alarm detects some type of intrusion and responds with an alert in the form of a siren, blinking light, or notification to the vehicle owner via some type of remote communication.
Does my vehicle have a car alarm installed in it?
Most car manufacturers include some form of security with every vehicle they produce. While the extent of this security varies, a factory car alarm will usually include the following components:
Immobilizer – prevents the vehicle from being driven without the physical key
Door sensors – detects when a door is opened, either forcible or from inside, while the security system is in an "armed" state
Horn siren – repeatedly honks to indicate that some form of intrusion has occurred
If your vehicle's model year is within the last 15 years, it most likely has some security features, but probably not enough to detect situations like smash-and-grabs, towing, hit-and-runs, or wheel theft.
How long does it take to install a car alarm?
In a survey taken by MECP-certified install technicians, respondents stated that the average car alarm installation takes about 3 hours. The longest installation reported was 5 hours and the shortest was 2 hours. This length of time includes the following procedures:
Diagnosis of vehicle's current state (door locks, light bulbs, battery, etc.)
Disassembly of vehicle inside panels
Bench prep – preparation of all products, wires, and accessories prior to going under the vehicle dashboard
Installation, connections, and mounting (making sure that component is secured and won't shake while you're on the road)
Testing and troubleshooting to make sure all installed components work properly
Reassembly of vehicle inside panels & cleaning so that everything is back to the way it was before you dropped off your vehicle
How do you install a car alarm?
Although Compustar does not condone DIY installs by non-experienced/certified installers, we understand that there are many skilled individuals with the experience and to figure it out.
Can I install my car alarm system myself?
As with most products, your ability to self-install will depend on the complexity of the system and your expertise. We recommend professional installation for car alarm systems because there is a risk you could invalidate your warranty or place a strain on the battery with improper installation.
What else can I do to protect my car from being stolen?
Avoiding car theft is about more than outfitting your ride with a state-of-the-art alarm system. Consider additional measures like steering wheel locks, or choose an option from our best car dash cams for extra security. The more redundant protection measures you take, the less likely it is that your car will become a target
What first steps should I take if I suspect my car is stolen?
Naturally, you should contact authorities, but you can do so armed with additional information if you have a car alarm system with GPS tracking. There are some common sense measures you can also take if you're dealing with a car break-in to make things like insurance claims and police reports a little easier on everyone involved.
Can my car alarm system be easily disconnected or disabled?
How quickly yor car alarm system can be disabled depends on the security features it's equipped with and the skill of the thief attempting to steal your ride. While they might be a headache during false alarms, carjacking protections like kill switches and advanced encryption are two key factors that can determine how easily car thieves hotwire your ignition or bypass your car alarm.
Car Alarm Installation Service Near McAllen TX
Car Alarm Installation
Car Alarm Installation Manual Pdf
Car Alarm Installation Diagram
Car Alarm Installation Price
Car Alarm System Installation
Prestige Car Alarm Installation
How To Install Car Alarm With Central Locking Near McAllen TX
Car Alarm System Installation
Car Alarm System Price
Car Alarm Installation
Car Alarm Installation Prices
Car Touch Alarm Price
Best Buy Car Alarm Installation Cost
Car Security System Near McAllen TX
Alamo Car Alarm Installation Near Me
Alton Car Alarm Installation Near Me
Brownsville Car Alarm Installation Near Me
Donna Car Alarm Installation Near Me
Edcouch Car Alarm Installation Near Me
Edinburg Car Alarm Installation Near Me
Elsa Car Alarm Installation Near Me
Granjeno Car Alarm Installation Near Me
Harlingen Car Alarm Installation Near Me
Hidalgo Car Alarm Installation Near Me
La Joya Car Alarm Installation Near Me
La Villa Car Alarm Installation Near Me
McAllen Car Alarm Installation Near Me
Mercedes Car Alarm Installation Near Me
Mission Car Alarm Installation Near Me
Rio Grande City Car Alarm Installation Near Me
Raymondville Car Alarm Installation Near Me
Palmhurst Car Alarm Installation Near Me
Palmview Car Alarm Installation Near Me
Penitas Car Alarm Installation Near Me
Pharr Car Alarm Installation Near Me
Progreso Car Alarm Installation Near Me
Progreso Lakes Car Alarm Installation Near Me
San Juan Car Alarm Installation Near Me
Sullivan City Car Alarm Installation Near Me
Weslaco Car Alarm Installation Near Me
MOBILE MECHANICS OF MCALLEN
REQUEST MORE INFORMATION. CONTACT US.